How to use Google Trends for SEO
Google Trends is one of the most under-utilised and powerful tools for SEO, providing an invaluable tool for marketers.
This article will teach you how to use Google Trends for SEO. A unique SEO tool to help identify which keywords current and potential customers are searching for most. This will give a good indication of what to write about and where to focus your marketing efforts.
You can also use Google Trends to find out what content is performing well on the web and what type is getting ignored.
Because of its power, it's essential that you understand how to use it properly and not "discover trends" where none exist.
You can use Google Trends to:
Discover what's trending in the world today
Find out what's newly popular within an industry or theme
Identify geographic search trends specific to your area
How To Use Google Trends
Search For Keyword Trends
Google Trends is a great way to research your target keywords. You can enter a specific search term in the search box on the homepage and see how often that term is trending on Google.
By default, this runs a Web Search of Google's most popular keywords. But you can also change it to search, Image Search, Google Shopping Search, News Search or YouTube Search data instead.
Google Trends provides a visual representation of the popularity of a particular search term over time. This can help you discern trends and fads and determine how a topic is discussed.
By looking at more than one year's data versus only one year, you can distinguish between fads and actual trends.
The keyword research feature helps identify keywords that are growing in popularity and avoid those becoming less popular over time.
Search For Related Keyword Trends
Google Trends is unique because it can recommend related keywords currently growing in popularity.
This feature is powerful because it allows you to find related keywords based on your core search term. This way, you can improve the chances of finding what you're looking for faster and more efficiently. This is a valuable feature, letting you keep up with the latest trends without having to spend hours online researching.
After typing a search query into the homepage, Google Trends returns a list of trending keywords that it believes are closely related to your search. Use this information to help you focus your research and find what you're looking for more easily. Google Trends provides you with % search volume increases for each keyword, so you can see how popular they've become over time. Sometimes, Google Trends will replace the percentage search volume with the word "Breakout", meaning the keyword has increased by over 5,000%.
Keep up with the latest trends and strategies to be ahead of the curve! You should be aware of specific trends to rank high on Google searches. Some of these include using particular keywords and sticking to popular topics. By taking advantage of these trends, you can land the top spot before the keyword becomes mainstream. This means you can capitalise on the popularity of your keyword before any other businesses catch on. Building your strategy around "breakout" keywords may work well in the short term. Still, they risk becoming obsolete (fads) if they don't become actual long-term trends. Also, the material you develop around these popular search terms may eventually become stale, unlike evergreen content.
Finding General Trends
Every marketer is using the same data. So, to get an edge on the competition, you need to use the data to predict trends.
You must constantly monitor seasonal changes and local preferences to hop on the latest trends. But don't worry – this isn't as hard as it might sound. In fact, with a bit of creativity and effort, you can keep ahead of the curve without relying on traditional marketing research methods.
You can use Google Trends to uncover current trending topics that are pertinent and write about them before anybody else.
Previously, "newsjacking" was a surefire method of making money off of recently popular stories. You may see which current news trends are the most coveted with Google Trends.
There are a couple of ways to do this:
Discover trends by filtering by particular nations or categories. The top health story of the day may not garner much attention on Google Trends, but it might help you choose what to pay attention to
Compare two key phrases in a single trend. For example, (see below), the UK's Labour Party (blue line) and Conservative Party (red line) exchanged trends between July 2021 and July 2022. With the Labour Party generally trending higher until July 2022. What does that mean? In this case, a new leader election for the Conservative Party. That could be a great question to get the conversation started, i.e. boost engagement

Advanced Searches For Keyword Trends
You could use various search operators to get more out of Google Trends.
The plus operator (+) is used to combine terms. It can be used with any number of words. Simply connect the terms using plus signs to create a new result.
Another helpful operator is using double quotes ("…") to only include direct match results. For example, check out the discrepancies between shoes (red line) and "golf shoes" (blue line). See below.
If the search term can be associated with another meaning, you can use the minus operator (-) to avoid skewed results.

Advanced Keyword Trends
You can use the plus operator to account for different spellings, abbreviations, and punctuation, e.g. seo + SEO + "search engine optimisation" + "search engine optimisation".
Search For Related Keyword Topics
You may use Google Trends to find related subjects for future articles using the Related Queries table to discover related search terms.
In the table to the left of Related Queries, there's another table called Related Topics.
Instead of showing you specific search terms, this table provides insight into broader topics.
To successfully write content for the web, you'll need to hone in on specific keywords. But these keyword recommendations can help you find new and trending topics to write about.
You can use Google Trends to your best advantage as a marketer.
Embedding Google Trends in a Website
There is a simple way to embed a Google Trends graph on your website. After performing a search, click the little embed button (< >), and you'll be given the code snippet to add to your website's HTML source.
Additional Google Trend Features
Google Trends has a sidebar that offers more detailed information about the popularity of different topics.
Trending searches
This tab provides a way to keep up with the latest headlines globally by changing the country selected. You can easily choose news from all over the world.
Year In Search
Google publishes reports every year on the most popular searches. These reports are always interesting to look at, and it's interesting to browse through previous "Year in Search" reports to see the strange trends that were popular back in the day.
Subscriptions
The most helpful addition to Google Trends has to be Subscriptions. As Google will send you regular emails, it's a great way to keep up with topics and trending searches of your choice without constantly checking Google search results.
Seasonal Trends
Some products sell better in different seasons. Below is an example from the United Kingdom that you might have guessed.
"summer jackets" and "winter jackets" are popular at different times. Summer jackets (blue line) popularity peaks in the summertime, and winter jackets (red line) popularity peaks in winter.
Location-Based Keyword Trends
Effective marketing is essential for any business. Certain parts of a country are more interested in a product, service, or industry than others.
Take the Trends in the United States data for the aforementioned "winter jackets". Most of the interest comes from the colder northern states.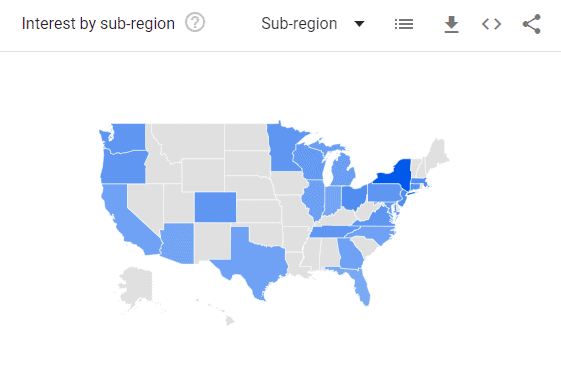 Local SEO Keyword Trends
Many services are available using the "near me" search. With some location filtering, you can see which ones are most popular for local services. See below for Texas "Dentist near me".

Summary
Google Trends data is more critical now than ever.
There are unique insights to be had for those that are willing to dig a little deeper than just a basic search.
Staying with your queries is the key to finding the information you're looking for. If it doesn't seem evident initially, keep asking until you find what you're looking for.